railway-usa.com
Written on Modified on
Westermo Infotainment and high-speed Wi-Fi in Rail Operations with Powerful Access Points
Colibri is the catchy acronym of the company DB Fahrzeuginstandhaltung GmbH for "Coach Link for Broadband Information Exchange".
The company uses it to refer to IT-based products and services on the vehicle and along the travel chain. In principle, it is a modular, flexibly expandable communication solution on trains, in buses, in ticket vending machines, at stations, in service centres and the like.
Within the Colibri project, about 40 employees are working on advancing the digitalisation of trains. The team not only takes care of the technology – the installation and conversion of components as well as maintenance and further development are also part of the project. Colibri has its origins in the DB pilot project "Digital im Regio" [≈ digitalisation of regional trains], which started a few years ago. Here, the possibilities offered by digitalisation in railway operations were tested in real operation on a specific railway section. These tests produced concrete results for practice: Passengers have been able to use the available Wi-Fi network since 2015. On their mobile phones and on monitors in the train, they can see whether there are still free seats or bicycle stands available, and the exact occupancy rate can be seen on each carriage.
The requirements for communication systems in rail transport have increased considerably in recent years. Today, passengers expect to be able to use their mobile devices throughout their entire rail journey. Catharina Schick, Marketing and Sales Officer for the Colibri product range, says: "The installation of Wi-Fi in trains began back in 2015. Passengers have become accustomed to surfing the internet on the move and having a stable connection. Around this time, the topic of connectivity became more and more apparent to manufacturers and integrators. The idea behind Colibri is also to further expand the range of devices and services in the direction of diagnostics and security."
Entertainment systems have long since become established. Maintenance processes should also be digitalised and optimised. More and more sensors and digital technologies are being used to obtain, monitor, and analyse data regarding the condition of trains, enabling more efficient and preventive maintenance.

Digitalisation Strategy in the Transportation Sector

The flexible Colibri system brings "digital intelligence" to a rail vehicle. It is used to implement diagnostic systems and enables safety applications as well as the provision of entertainment content and travel information in real-time. Soon, around 2,000 Colibri systems will be in use on the DB rail network. Every hardware component connected to the vehicle and to Colibri is monitored.
In addition to the earlier CyBox AP 2-W device generations, Westermo Eltec can now provide the successor product, the CyBox AP 3-W, for this purpose. With this third generation, up to 1,024 mobile Wi-Fi-capable devices per access point can communicate with the Internet or access local data such as timetable information or videos. Compared to the previous generation, the CyBox AP 3-W offers, among other things, the significantly higher Wi-Fi data rates of the Wave 2 standard with MU-MIMO support.
Fair Distribution of Bandwidth to all Passengers
The access point enables the simultaneous operation of two Wi-Fi radios in the IEEE802.11ac Wave 2 standard at data rates of 2 x 1700 Mbps. In addition to higher data rates, Wave 2 also supports multi-user MIMO (MU-MIMO).This reduces the time each device has to wait for a signal and significantly increases the speed of the network. Load balancing is used to ensure intelligent distribution of clients to access points and, thus, fair distribution of bandwidths to passengers. When a passenger moves through the train, e.g. on the way to the on-board bistro, fast roaming always ensures a seamless connection by passing the connected end device from access point to access point without loss.
All Wi-Fi access points from Westermo Eltec offer a high level of security and user-friendliness: A configurable firewall protects the personal data of individual subscribers from unauthorised access and supports secure and trouble-free data exchange with the Internet. The CyBox APs can be flexibly configured via the convenient user interface or SNMP commands. In addition to the setting of global parameters, the complete configuration of the Wi-Fi interfaces can be realised, including channel selection, SSID, encryption, and the firewall setting.
All electronic components in the access points permanently withstand high temperature variations. In addition, the components are particularly resilient to shock, vibration and humidity. Westermo Eltec has developed the devices in accordance with the requirements of current industrial standards and current railway standards such as EN 50155.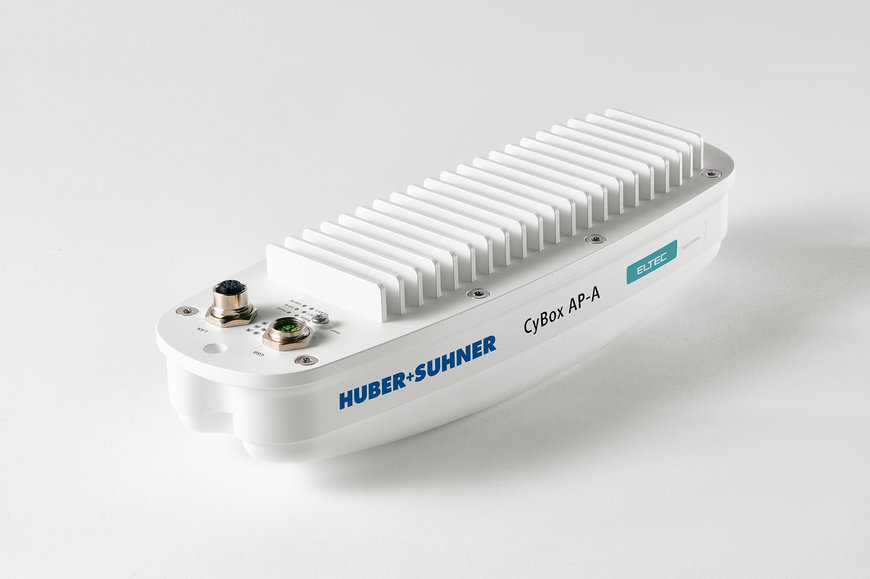 Higher Data Throughput with Integrated Antenna
The CyBox AP-A access point enables a significantly higher data throughput per passenger for a better Wi-Fi experience on board. It has an integrated SENCITY
®
Rail antenna and reduces installation costs. The redundant Wi-Fi networks increase operational reliability, as in the event of a malfunction of one access point, the remaining access points step in and the total bandwidth is thus hardly noticeably reduced. The CyBox AP-A access point requires only one single Ethernet cable, which in addition to the data connection also provides the power supply (PoE+).This provides operators with a compact option that allows for simpler and more cost-effective installation compared to other solutions, as no additional antennas or RF cables are required. The access point can be mounted horizontally on the ceiling to cover the environment with high network density, or vertically on the wall to increase coverage.

Modular Computing Platform Next Step
Marco Gerhard, CEO of Westermo Eltec, says: "It has never been more important than today to advance developments in the areas of onboard connectivity and rail-related infrastructure in an efficient and future-oriented way. With regard to future wireless technologies in the railway environment, there is still a lot of potential to be tapped."
So, the future is promising: Westermo Eltec's new modular computer platform PCEye MC-R could soon be in use. It was developed according to the ModBlox7 standard specifically for railway applications and presented to the industry last year. PCEye MC-R is an individually configurable BoxPC in a very compact design with interfaces for Gigabit Ethernet, RS232/422/485, DisplayPort, USB 3.0, and audio in the basic version. Thanks to its modular design, the basic system can be extended by up to seven interface, communication, or mass storage modules. In addition, the associated housing concept enables a variety of mounting options, from top-hat rail to 19"-rackmount.
The modular, scalable, and individually configurable PCEye MC-R conforms to railway standard EN 50155 and can be used maintenance-free in an operating temperature range from -40 °C to +70 °C. The computing platform benefits train manufacturers, railway operators, integrators, and many other industrial sectors where traditional proprietary BoxPCs have been used until now. Typical applications include predictive maintenance, voice communications, passenger information, ticketing systems, IoT gateways, diagnostic systems, edge computing, and data-based cloud services.
Due to the modular concept, various extension modules can be easily implemented to meet customer-specific requirements and functions. Typical expansion modules include various Wi-Fi modules. The radio interfaces are prepared for 11ac Wave 2 as well as 11ax Wi-Fi 6 with integrated Bluetooth and for 5G to increase network efficiency and maximise data throughput. Country-specific 5G/LTE/Wi-Fi standards can be adopted for global deployment.
Conclusion
Even today, the third generation of CyBox AP 3-W access points allows a large number of mobile Wi-Fi-capable devices per access point to communicate via the Internet in a passenger train, suburban train, or underground train, where they can access local data such as timetable information or videos. Advanced features enable higher data rates with MU-MIMO support and ensure seamless Wi-Fi coverage with fast, secure, and uninterrupted connections. Without this advance in rail technology, relaxed surfing on the train would not be possible – and this has become indispensable for many rail passengers today. With its IT products, such as access points, gateways, and modules and a computer platform, Westermo Eltec can contribute to bringing new solutions to the railways and subjecting them to practical tests. Rail passengers can look forward to travelling being even more comfortable and relaxed in the future and using their time even more effectively.
www.westermo.com